These ladies enjoy a very comfortable lifestyle that allows them to take their pick as to where they soak up the sun during the day or rest their head at night.  With the exception of their very intensive duties for about 8-9 weeks with their new kittens, they each have 'lifestyle.'  These girls have very different personalities with individual needs that we lovingly accommodate…  It can be interesting serving so many Divas.
WE ARE IN THE PROCESS OF UPDATING THIS PAGE.

NANAIMO – seal point bicolour (carrying chocolate/dilution)
Our lovely Nanaimo is one of our maiden queens that we hope will have her first litter of kittens in 2020.  Her parents are currently still with us.  She has the best attributes of both Kingman & Anna.  She's a large girl for her age with exceptional fur and eye colour.  She is easy going but has bursts of spunk and can be observed running from one end of our house to the other skipping stairs on her way.  We think she will make a very good mother and have very beautiful babies.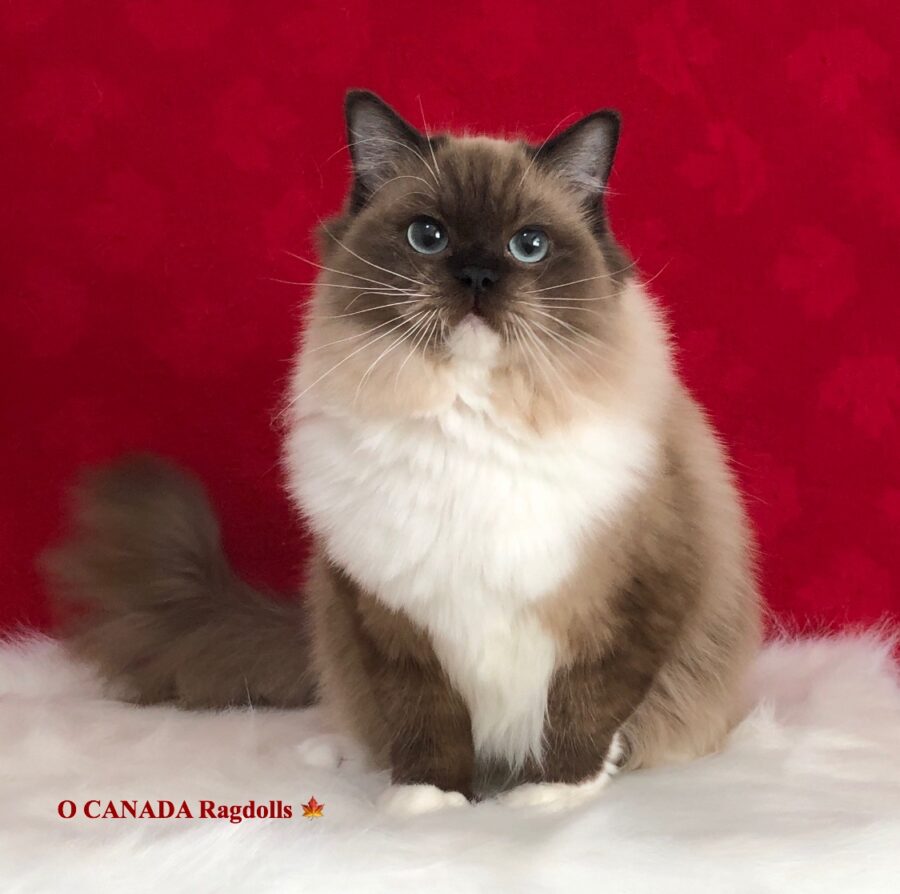 RUBY – seal mink mitted (carrying chocolate/dilution)
Ruby is a young mom who is attentive and very nurturing toward her babies.  She's one of our biggest girls with flawless fur and gorgeous expressive aqua eyes.  She is very laid back and has a very casual approach to everything.  She isn't a dominant queen so is seldom involved in drama or mischief.  She loves to sit and observe or stretch out on her side in the sunshine when it comes in the windows.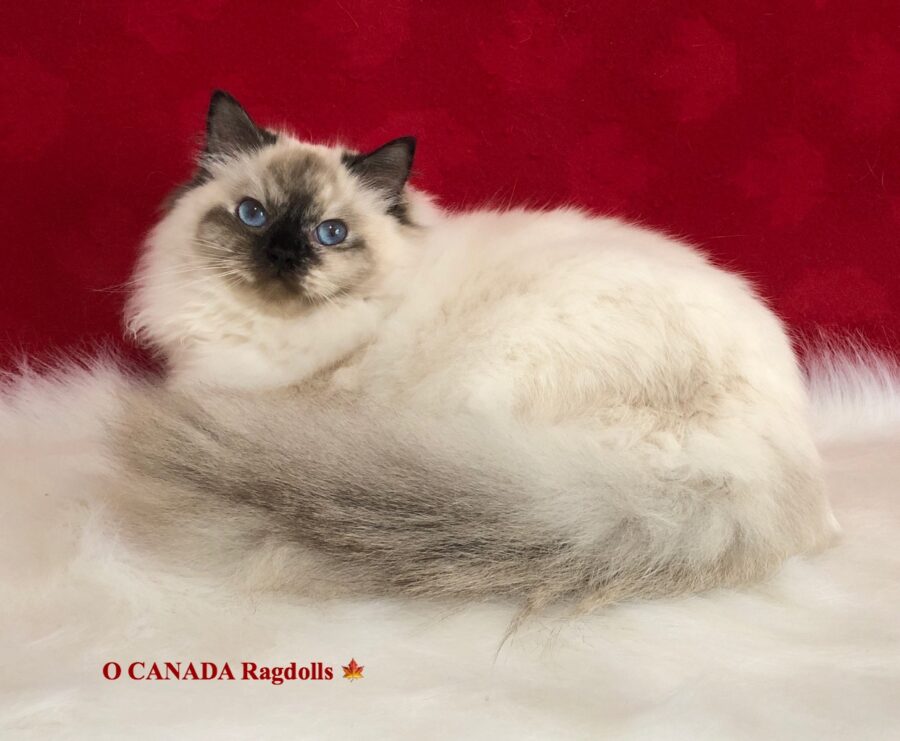 WHIPPOORWILL – seal tortie colour point (carrying cinnamon/dilution)
This maiden represents 4 generations of our breeding and development of our cinnamon lines.  It's all about her DNA and we are very proud of her.  She has a subtle beauty both inside and out. Her fur is soft, dense and she has a very beautiful tail.  Her eyes are a lovely blue colour and they sparkle when she wants to be petted.  She's got a gentle, kind heart that is true to the Ragdoll breed.  She's our beautiful Whippoorwill!

ANNA – blue point mitted
Anna is one of our mature queens.  She's had a couple of litters with Kingman and her babies are always gorgeous!  Just look at Nanaimo eh?!  Anna has exquisite eye colour, fur and a very nurturing demeanour.  We look forward to more kittens from Anna & Kingman again this year.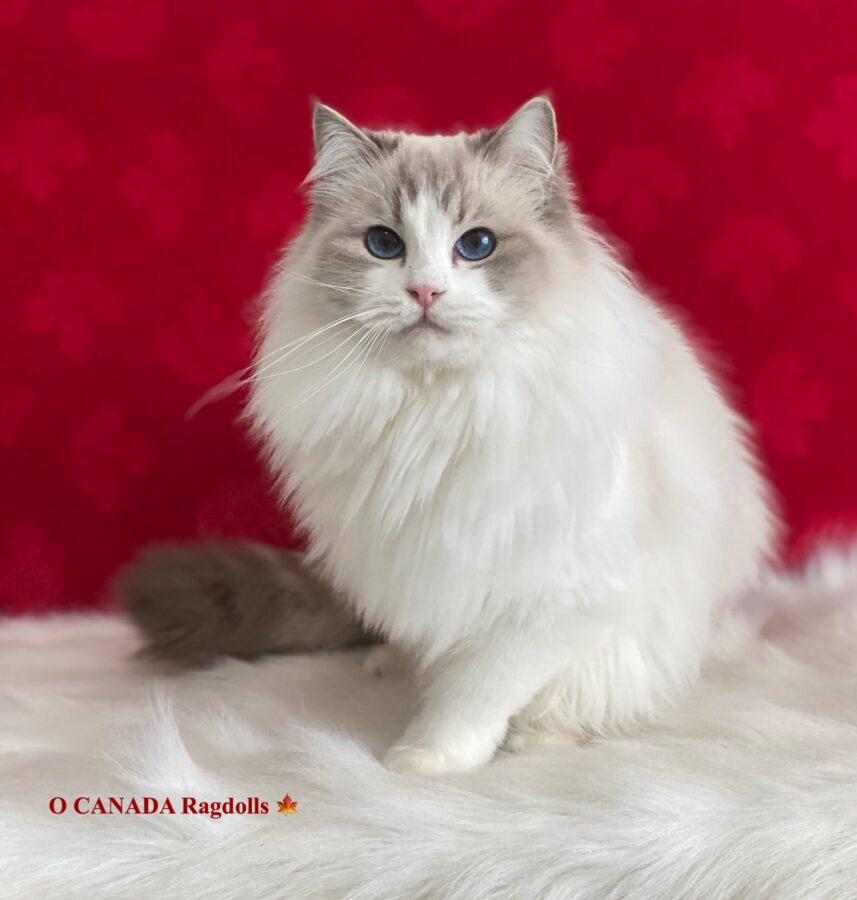 ALICE – blue lynx point bicolour (carrying chocolate)
Alice has had one litter of kittens and was a fantastic mother!  Her babies all had gorgeous lush coats and deep blue eyes.  She is a fun cat that will flop down as soon as she knows she's got your attention.  She's very much like her sire Kingman who is exceptionally cuddly and floppy.  We expect that Alice will have another litter with Elliot again this year.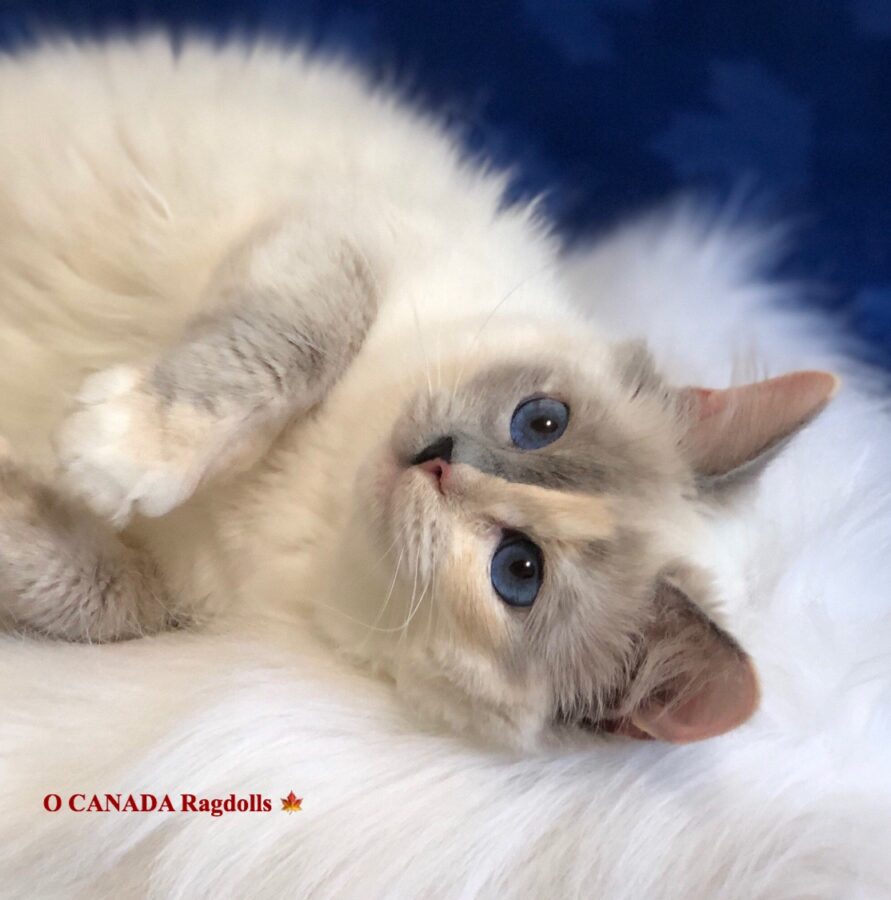 SURREY – blue cream (tortie) split face (carrying chocolate)
Surrey takes her portraits sideways because she loves cuddly things and all day, every day it's time for humans to pet her!  She's one of our exceptional girls with a glowing heart.  Her eyes may be the bluest of all our kitties and her tortie markings are dramatically beautiful.  Surrey is a Kingman grandbaby.  She has many of her grandsire's attributes that we love so much.

MORNING GLORY – blue cream (tortie) mink (carrying chocolate)
Morning Glory tends to love heights and engages in some of the cattery queen semantics that go on.  She is very agile, quick and SMART!  Her fur is exceptional and the blue cream colour marbles over her entire body, even thru her huge feather plume tail.  Her aqua blue eyes are like shining marbles and is a kitty that can't be ignored. She is one of our maidens and we hope that she will have kittens during the second half of the year.
AURORA – chocolate colour point (carrying cinnamon)
Our lovely Aurora Borealis is big and bold.  Although she always seems to look serious she is one affectionate queen.  She's had several litters for us, is such a good mother and enjoys it! She is playful with her kittens and keeps them very well fed and super clean.  Aurora has had some stunning cinnamon kittens; just look at Honey Paws!  She's been a strong queen in our development of the cinnamon Ragdoll colour.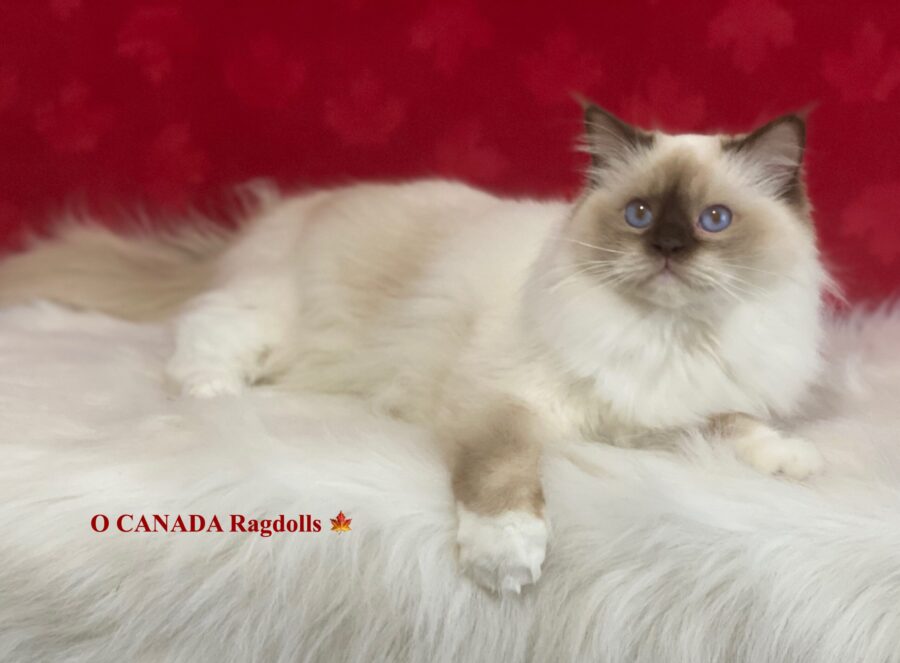 LATTÉ – chocolate mitted (carrying cinnamon/dilution)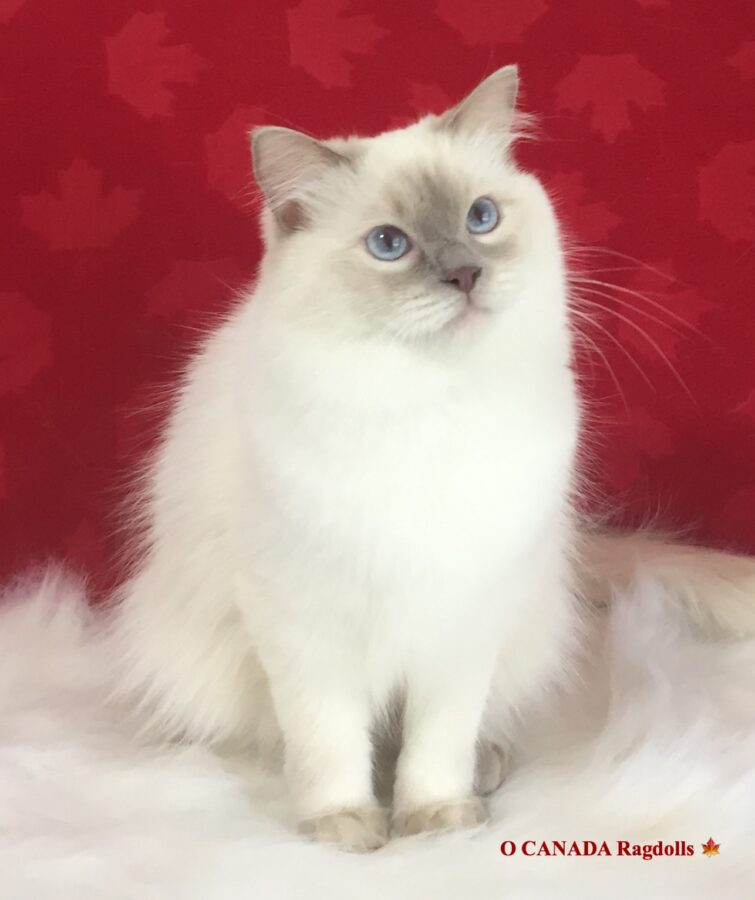 AGNES – lilac colour point (carrying cinnamon)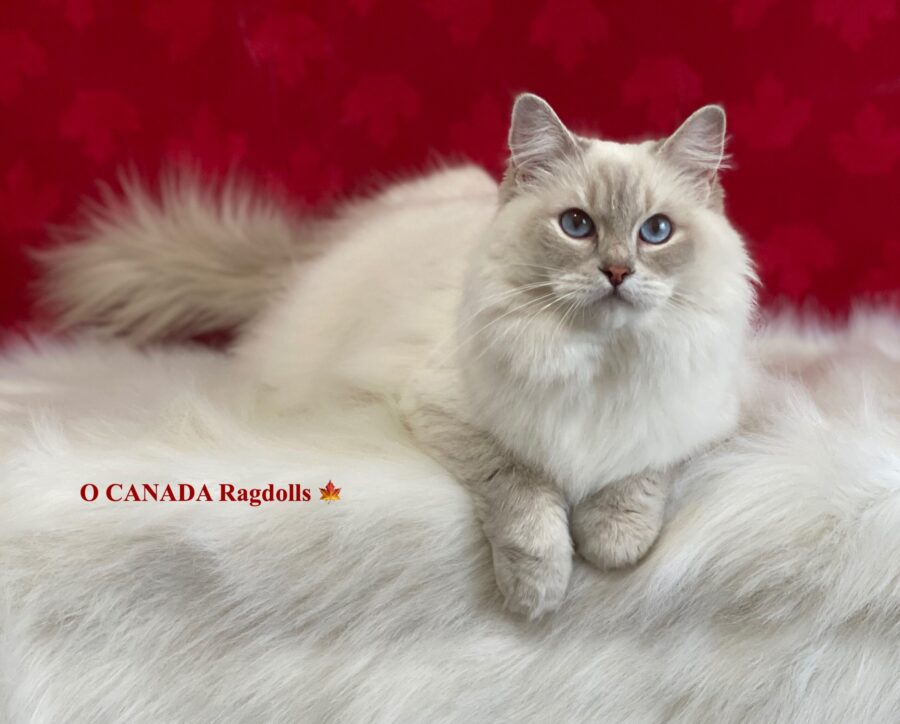 SWEET BISQUIT – lilac lynx point (carrying cinnamon)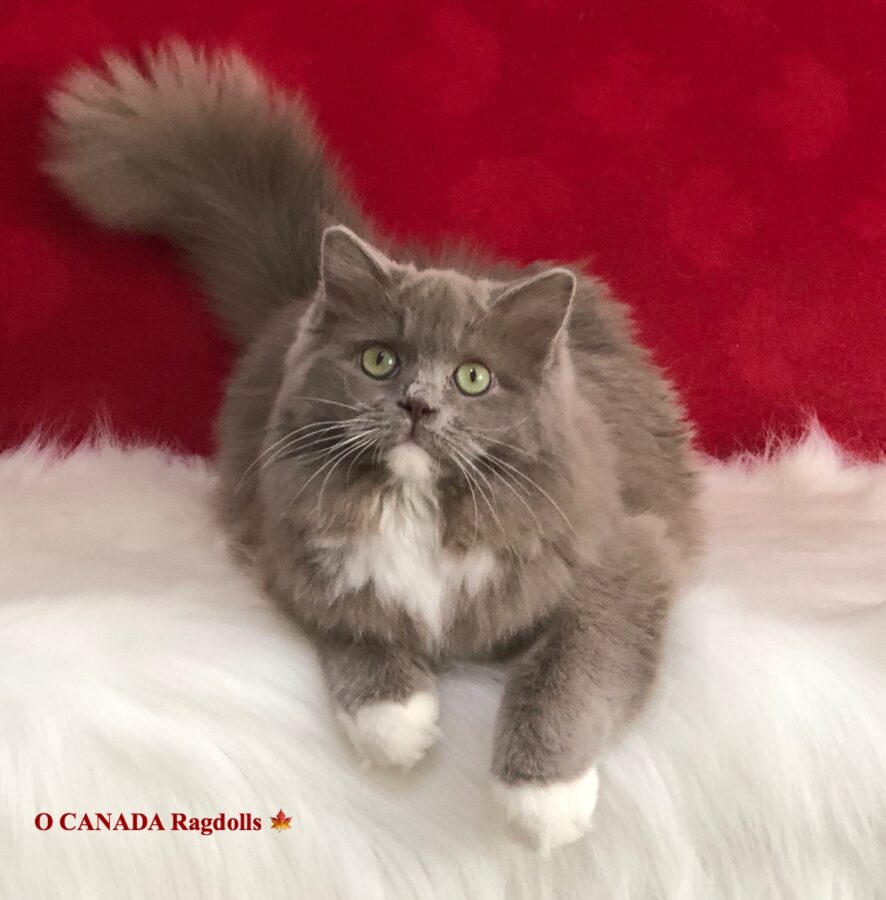 LONDON FOG – lilac mitted (carrying cinnamon)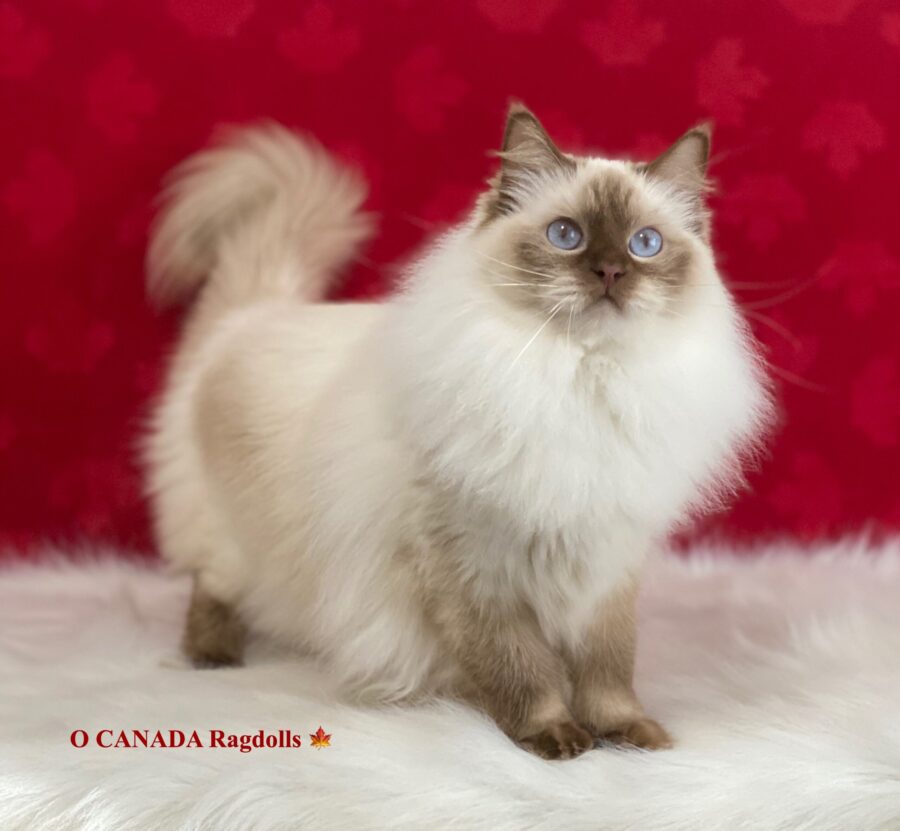 CINNAMON – cinnamon colour point (carrying dilution)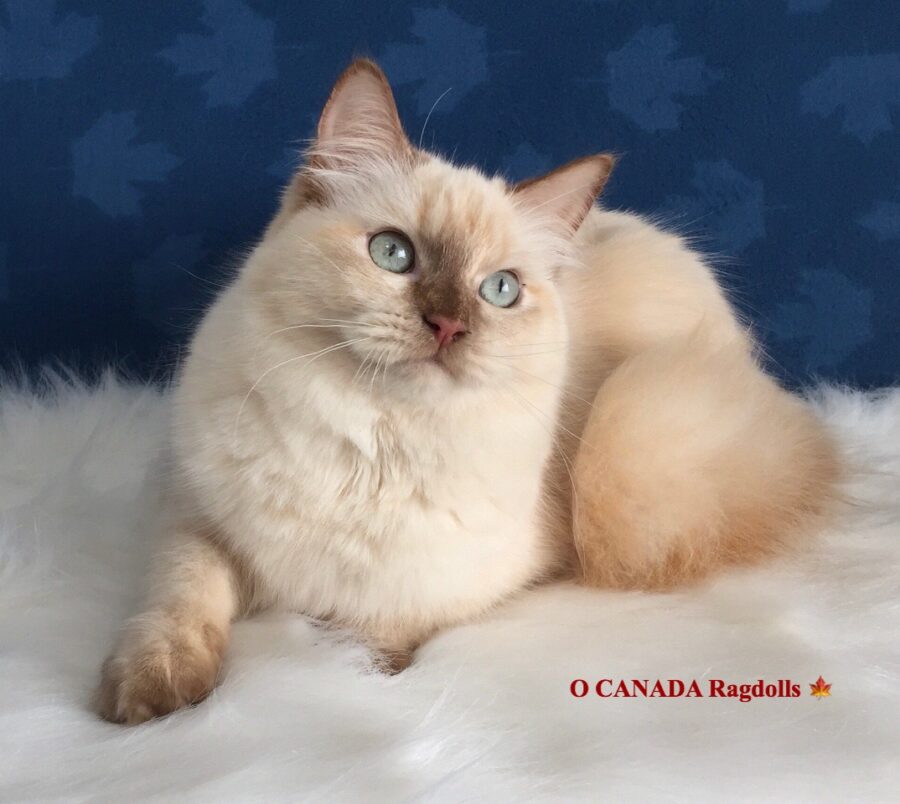 HONEY PAWS – cinnamon tortie mink (carrying dilution)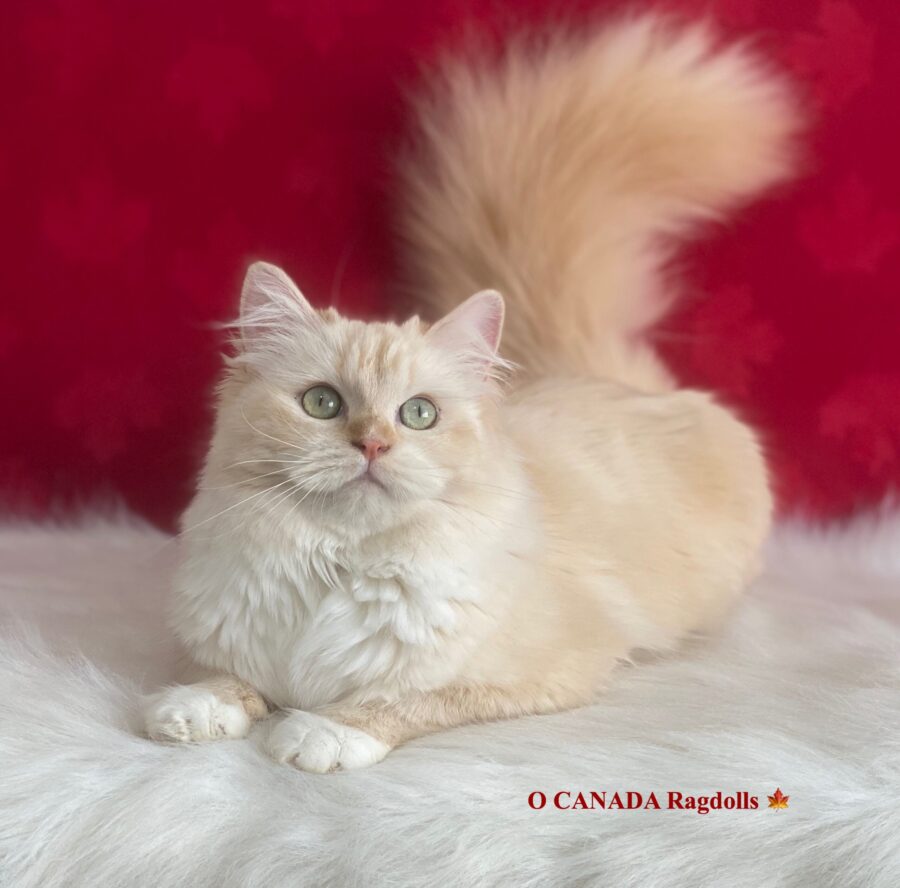 EMBER – cream mink mitted (masking blue, carrying cinnamon)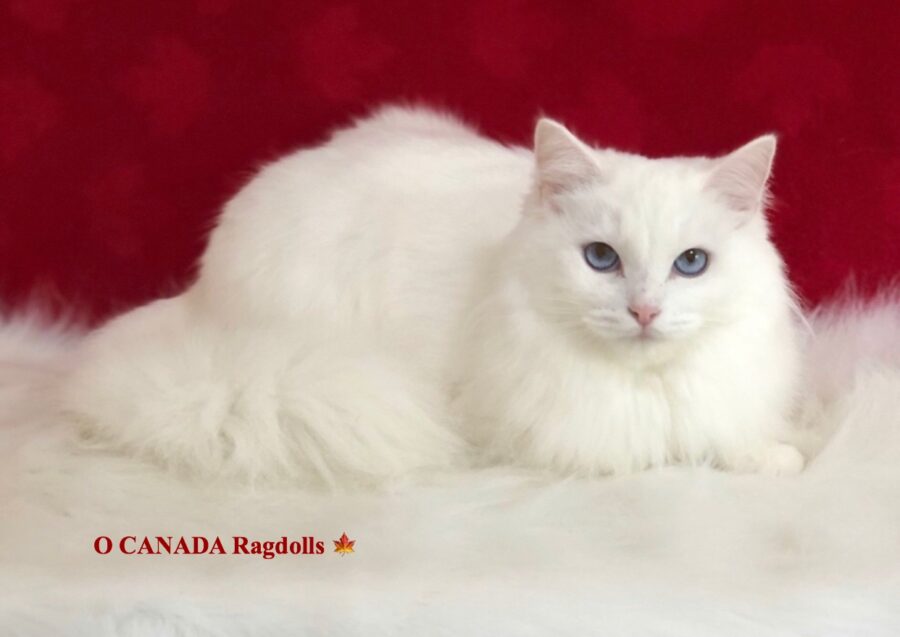 OCEAN – blue eyed white (masking chocolate colour point)