We periodically have mature kitties that are available for adoption, however we have specific requirements to ensure that they have a well deserved happily-ever-after.
IMPORTANT: Please contact us with information about your location, family dynamic, work schedule and information about other pets you have AFTER you have read our Prerequisites. We respond promptly to serious inquiries that provide information as we have requested.

O CANADA NORTHERN LIGHTS A BLAZE
Solid Lilac Mitted Male – 3.5 years.
BLAZE has the most gorgeous green eyes and exceptional fur coat! He is not a large male by weight however he has a huge personality and lovely long tail.  Blaze requires a home where he is the exclusive pet 100% of the time. He's extra cuddly and has no undesirable bad habits.  He craves lots of attention and will be an exquisite companion preferably to a more mature owner.

HARLEY
Seal Mink Male – 3.5 years old.
Harley is strikingly dark and handsome!  His fur is sooooooo soft.  He loves to be very interactive and is very chatty.  He bunts and is always looking for an opportunity to be someone's buddy.  He's not a large boy which allows him to be a perfect lap cat!  Harley would be well suited for a professional couple or for someone who is able to work from home regularly.  He would love to be an only pet!

O CANADA ROCKY MOUNTAIN JAMBOREE
Solid Lilac Female – 4 years old.
Jamboree retired early because she required a spay during her most recent litter.  She was a fabulous mother!  She is a dominant female that is very loyal and smart.  She loves attention and loves to run, jump and play.  She is a girls' girl and would do very well with a single person or a couple that likes to be home a lot.  She would not want to share her humans with any other pets.

HARMONY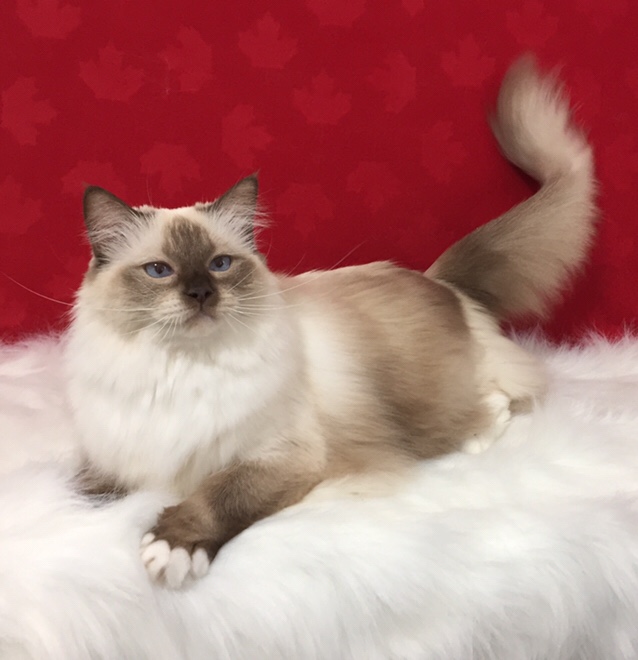 Chocolate Point Mitted Female – 5 years old.
Harmony has been one of our very important foundation queens.  She has been a spectacular mother who has loved her position in our cattery.  She has grown to be very affectionate and she is a big girl too.  Harmony needs a very special family who will be devoted to her as she may find a transition a bit difficult.  If you are a cat whisperer, Harmony will be very rewarding.

DESI
Chocolate Lynx Point Female – 5 years old.
Desi is the sassy girl in our cattery!  She is big, beautiful and zesty….  She bunts to get attention and offers love bites if her human gets distracted.  She loves back massage or anything that involves HER.  She's incredibly nosey and funny.  She's got such a jelly belly and loves to jump into bed first so she is the welcome party. She's one of our favourites! Desi would prefer to be an only pet in a home without children.